Patent Cliff Analysis Support for Generic Drug Decisions for Generic Drug Decisions for Generic Drug Decisions
Case Study for Rheumatoid Arthritis
Patent termination events have a startling effect on company revenue. Figure 1 shows FDA reported patent terminations for Rheumatoid Arthritis drugs. This figure summarizes the timing of opportunities for generics companies to enter the market in a particular disease area. Further analysis in PharmaKB provides detailed commercial metrics such as revenues, market sizes, and new clinical trials to better understand the evolving competitive landscape.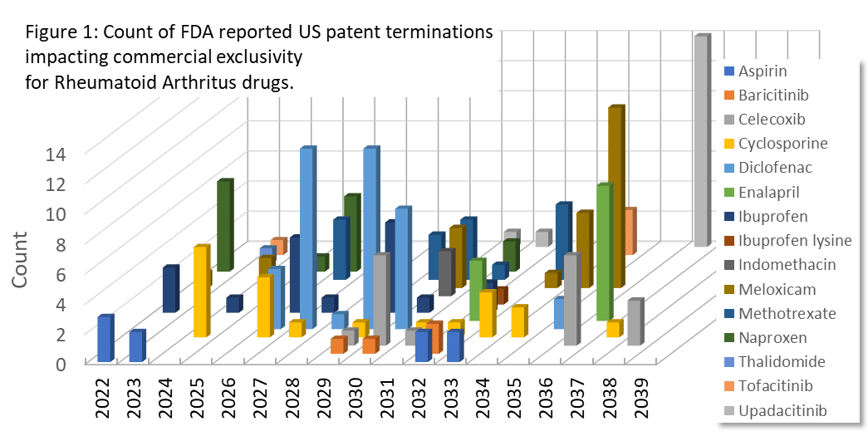 Commercial organizations that consider offering Rheumatoid Arthritis drugs to the market can use the type of analysis illustrated in Figure 1 to prepare and time the offering of commercial generic products in this space when there is increased opportunity to redirect sales of more expensive formerly patent protected drugs.
Up-to-Date Details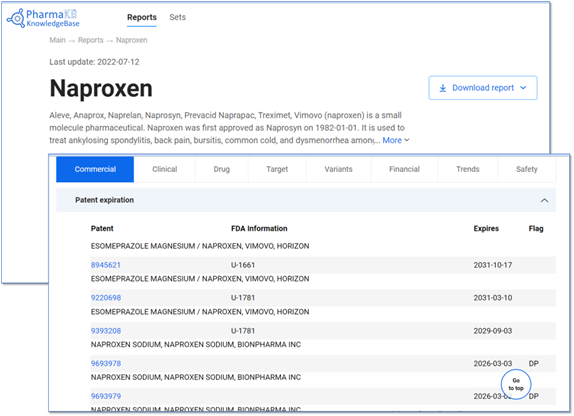 PharmaKB provides an up-to-date profile on all FDA and EMA approved drugs and drugs in clinical trials, and the system can alert users when new information is available.
FDA and EMA reported exclusivity considerations (where they exist) are included in the Patent section of each Drug Report.
In addition to patent data, PharmaKB includes detailed information on key concepts scientists and business professionals must consider when assessing generic drug opportunities.
PharmaKB Content Overview
| | |
| --- | --- |
| Category | Description |
| Commercial Profile | Manufacturers, commercial products, FDA reported patents and exclusivity timelines*, drug label information. |
| Active Ingredient | Scientific names, molecular structure, technical description, common industry IDs and classifications. |
| Biological Target | FDA approved and alternative biological targets, mechanism of action, scientific names, and industry IDs. |
| Financial Performance | Publicly reported revenue performance for marketed drugs. |
| Drug Safety | Black-Box Warnings and reported adverse drug reactions. |
| Clinical Trials | Comprehensive details on active and past clinical trials. |
| Genetic Variant Information | Reported ClinVar IDTarget mutation and effect on patient outcomes. |
| Literature Trends | Trending MeSH terms coincident in the literature with drug terms. |
*Note that US FDA reported patent termination dates are not a guarantee of any rights to market. Commercial organizations should use this data as a guide to identify important patents to review.
Background
The Drug Price Competition and Patent Term Restoration Act of 1984 (the Hatch-Waxman Amendments) aimed to strike a balance between protecting innovation while increasing competition, by using exclusivities and patent extensions to protect innovation and creating the modern abbreviated new drug application (ANDA) approval pathway to facilitate market entry of lower-cost generics. Following the formation of this amendment, the pharmaceutical industry and generic entrants battleground plays out uniquely for each drug in the marketplace. Consequently, having an information advantage can benefit all players.
There are populists demands to bring more drug competition to the market and addressing the high cost of medicines is a balancing act for government administrations like the Department of Health and Human Services (HHS), and FDA. In 2017, FDA announced the Drug Competition Action Plan (DCAP) to further encourage robust and timely market competition for generic drugs and help bring greater efficiency and transparency to the generic drug review process, without sacrificing the scientific rigor underlying our generic drug program. Through this plan, FDA helps streamline generic drug development and market entry in an effort to spur competition so that consumers can get access to the medicines they need at affordable prices.
There are many challenges for industry to do its part in developing new generic drugs. Commercial organizations seeking to manufacture or distribute generic drugs require up-to-date information on any existing ANDAs and the exclusivity patents recognized by the FDA. Gathering and organizing the FDA guidance along with drug technical data can be challenging and must be kept current. This is especially challenging when looking across a portfolio of drugs such as for a generics company optimally timing entry points for various on-patent drugs.
Collaborative Drug Discovery (CDD), Inc. addresses this need by offering a cost-effective solution for reviewing the commercial status of all US FDA approved drugs. The database, PharmaKB, is available at (www.pharmakb.com).
PharmaKB provides up-to-date and detailed information about drugs, companies, and disease areas so that commercial organizations can gain a precise picture of where commercial opportunities lie based on when current approved drugs come off patent protection.
All content is available through the PharmaKB web application at (www.pharmakb.com) or via the PharmaKB API (details at www.pharmakb.com/api-documentation).
For information on the PharmaKB content and/or subscription-based access, please contact us at: info@pharmakb.com
Academic use focused on scholarly work is available at no cost based on review and approval from CDD.