Method for Trend Based Forecasting of Drug Revenues
Pharmaceutical companies make money by selling drugs. Drugs have characteristic vagaries that can affect the quality of drug company revenues. Pharma KnowledgeBase (PharmaKB) has numerous facts and figures that can quantify the quality of drug company earnings.
Many companies show their drug-by-drug revenue as part of quarterly earnings reports. These revenues change somewhat slowly and are reasonably predictable. The charts below show quarterly and yearly history and regression-based revenue predictions for humira (AbbVie) and imraldi (BioGen). Both of these drugs contribute significantly to company earnings.
PharmaKB Financial Section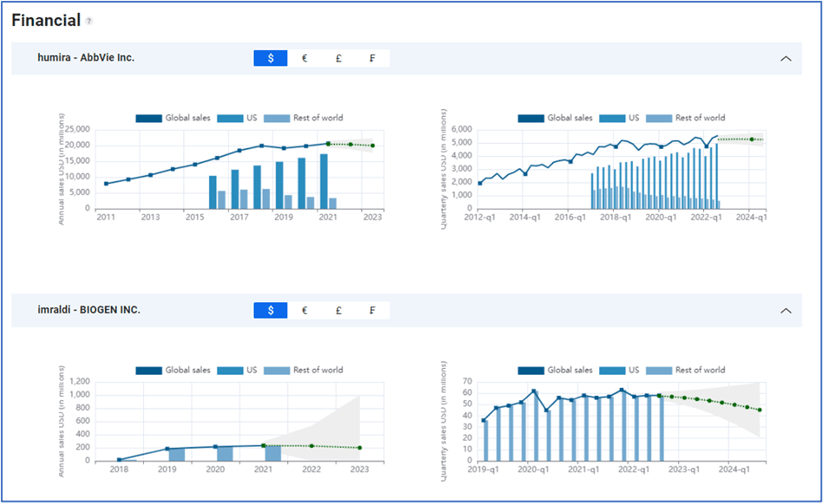 In addition to directly predicting next quarter's earnings, PharmaKB offers a variety of resources for determining the quality and sustainability of the revenues these drugs generate. Among these are:
1) Key indications for these drugs which connect to the number of people suffering from the various indications,
2) Other drugs that attack the same indications, particularly recently approved drugs,
3) The status and schedule for patent expiration,
4) Companies that have already received FDA approval for exactly the same drug in anticipation of patent expiration,
5) New indications that are in trials along with potential market sizes along with expected timing and probability of success.
PharmaKB Content Overview
| | |
| --- | --- |
| Category | Description |
| Commercial Profile | Manufacturers, commercial products, FDA reported patents and exclusivity timelines*, drug label information. |
| Active Ingredient | Scientific names, molecular structure, technical description, common industry IDs and classifications. |
| Biological Target | FDA approved and alternative biological targets, mechanism of action, scientific names, and industry IDs. |
| Financial Performance | Publicly reported revenue performance for marketed drugs. |
| Drug Safety | Black-Box Warnings and reported adverse drug reactions. |
| Clinical Trials | Comprehensive details on active and past clinical trials. |
| Genetic Variant Information | Reported ClinVar IDTarget mutation and effect on patient outcomes. |
| Literature Trends | Trending MeSH terms coincident in the literature with drug terms. |
*Note that US FDA reported patent termination dates are not a guarantee of any rights to market. Commercial organizations should use this data as a guide to identify important patents to review.
In order to develop and refine financial and other performance models for commercial drugs, analysts require regularly updated data on all key facets of drug performance ranging from financial to safety.
Collaborative Drug Discovery (CDD), Inc. addresses this need by offering a cost-effective solution for reviewing the commercial status of all US FDA approved drugs. The database, PharmaKB, is available at (www.pharmakb.com).
PharmaKB provides up-to-date and detailed information about drugs, companies, and disease areas so that commercial organizations can gain a precise picture of where commercial opportunities lie based on when current approved drugs come off patent protection.
All content is available through the PharmaKB web application at (www.pharmakb.com) or via the PharmaKB API (details at www.pharmakb.com/api-documentation).
For information on the PharmaKB content and/or subscription-based access, please contact us at: info@pharmakb.com
Academic use focused on scholarly work is available at no cost based on review and approval from CDD.